MARCH WITH THE QUEENSLAND IRISH ASSOCIATION IN THE 2018 ST PATRICK'S DAY PARADE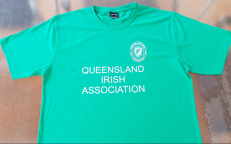 Members and Supporters of the Queensland Irish Association (bring the kids!!) are invited to march behind the new QIA Float in the St Patrick's Day Parade on Saturday 17 March 2018.
Please assemble at 9:45 am in the Brisbane Botanical Gardens in Alice St. The Parade starts at 10:30am from the Alice St gate at the end of Albert St.
We have a quantity of QIA  T shirts for Members to wear.