WELCOME TO THE MAY 2019 NEWSLETTER OF THE QUEENSLAND IRISH ASSOCIATION
PRESIDENT'S MESSAGE
The month of March saw the Feast of St Patrick which is widely celebrated throughout Queensland. This year, the QIA was represented at the St Patrick's Day Mass in the Cathedral, and in the St Patrick's Day Parade. Our great tradition of the St Patrick's Eve Dinner was held on Thursday 14 March 2019 at the Pullman Hotel. It was a wonderful evening of fine speeches, a delightful dancing display by the Queensland Irish Dancers, an uplifting performance by the QIA Pipe Band, and great renditions of Irish songs by the band and the guests in the room.
A lunch for members and friends was held on 24 May and featured presentations to Senator Clare Moore to mark her retirement from the Senate. She has been a great supporter of everything Irish in Queensland. Presentations were made by the QIA, St Brigid's Dinner Committee, and the St Patrick's Day Parade Committee.
The celebration of Bloomsday in Brisbane on 16 June. It will be held in the Queens St Mall and then afterwards at Irish Murphy's. The QIA will present readings from "Ulysses", the famous novel by James Joyce. The QIA Pipe Band will perform. I look forward to seeing at this event.
Jeffrey Spender – President
St Patrick's Eve Dinner 2019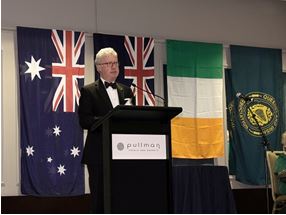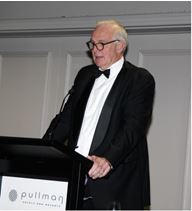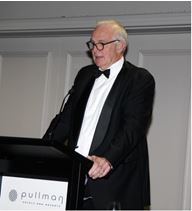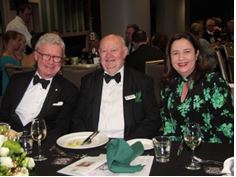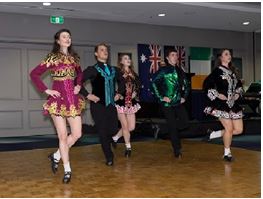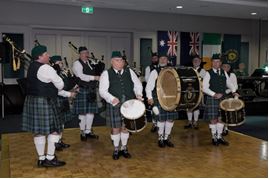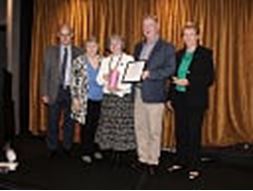 FUTURE EVENTS
1. BLOOMSDAY IN BRISBANE CELEBRATION – SUNDAY 16 JUNE 2019
Queen St Mall 11am-2:30pm – Free
Irish Murphy's – Upstairs- 2.30pm-Onwards – Free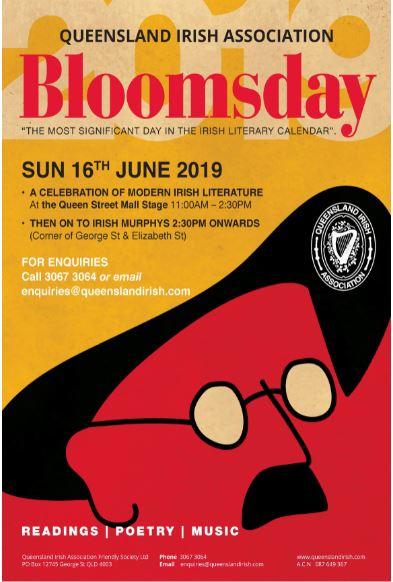 2. TARA HALL DINING CLUB
All dinners are held at Hotel Pacific Brisbane 345 Wickham Terrace Spring Hill.
Time: 7.00pm – 10.30pm
Happy Hour: 6.00pm – 8.00pm
Dates for future Dinners –
JUNE – WEDNESDAY 26TH
JULY – WEDNESDAY 31ST
AUGUST – WEDNESDAY 28TH
SEPTEMBER – WEDNESDAY 25TH
OCTOBER – WEDNESDAY 30TH
NOVEMBER – WEDNESDAY 20TH
DECEMBER – WEDNESDAY 11TH
For bookings please contact Tony Pisani – Email : fartacus8@gmail.com or phone : 0468 969 148.
3. TIGH GAELACH LADIES' DINING CLUB
The Tigh Gaelach Dining Club celebrate a long history of enjoying good food, wine, and wonderful company. Our inaugural dinner was held in June 1987 and was organised by very active female members of the Queensland Irish Association.
We meet at 7:00 pm on the last Wednesday of the month between February and November. Our ladies enjoy pre-dinner champagne, an interesting and varied two course meal with wine, beer or soft drink throughout. We have monthly raffles with great prizes. Dinners cost $45 and membership is $5 per year.
NEW MEMBERS AND VISITORS ARE MOST WELCOME
Bookings and enquiries can be made by contacting:
Michelle Fitzpatrick, President on 0403 384 223 or mitchfitzpatrick@hotmail.com or
Patsy Gerrard, Secretary on 3396 7320 or ptgerrard1@optusnet.com.au
Any bookings need to be made by Wednesday the week prior to our dinner. When booking, please provide all names of those attending, a contact number and any specific dietary requirements. We have a great committee who help support our members and they all work hard to make our evenings fun. We'd love you to join us.
ADVERTISING
If you wish to advertise in the QIA Newsletter, Website or Facebook Page please email your contact details to enquiries@queenslandirish.com
Planning for other events is taking place and will be announced in due course.
Thank you for your continuing support of the Queensland Irish Association. We look forward to seeing you at future events.
Jeff Spender President – Queensland Irish Association