WELCOME TO THE MARCH 2019 NEWSLETTER OF THE QUEENSLAND IRISH ASSOCIATION
PRESIDENT'S MESSAGE
A busy year for the QIA is well underway with much more to come in 2019.
The St Brigid's Dinner was an outstanding evening of fine speeches and first class entertainment to mark thirty years of honoring St Brigid. Eamonn Robinson, Deputy Head of Mission, Embassy of Ireland in Australia, delivered a scholarly speech on the history and influence of St Brigid. Later in the evening, he revealed a talented singing voice as he entertained all present. The contribution of Noela McCormack to the Dinner from its foundation to the present day was acknowledged. The Queensland Irish Association Dancers delivered a very polished and exciting performance. The Queensland Irish Association Pipe Band lifted the spirits of everyone in the room with a high quality performance reflecting the many hours they devote to practice to be such a fine Band. Robbie Allen completed the evening's entertainment and had the crowd singing along. Thank you to the St Brigid's Dinner Committee.
In February, a well-attended lunch was held to recognize and thank our Senior Members for their ongoing support and loyalty over many years. Senior Membership is conferred on Members with 30 continuous years of membership. At the Annual General Meeting in November 2018, a motion was passed that the period that the QIA was under Administration would be recognized for the purposes of continuous membership.
March will be a hectic month with the many events that surround the Feast of St Patrick. The St Patrick's Eve Dinner will be held on Thursday 14 March 2019 at the Pullman Hotel in the city. There are a small number of places available for the Dinner which will be attended by the Governor and the Premier of Queensland as well as other honored guests. See the details of the Dinner below. Bookings must be made by Friday 7 March 2019.
I would urge as many of you as can do so to march with the QIA float in the St Patrick's Day Parade on Saturday 16 March. Assemble at the float in Alice Street by 10am. Bring your family and friends along and enjoy the food and entertainment in the Botanical Gardens after the march.
Jeffrey Spender
President
FUTURE EVENTS
1. St PATRICK'S EVE DINNER – Thursday 14th March 2019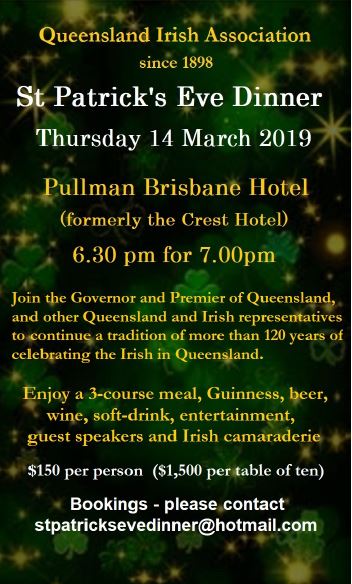 BOOKINGS MUST BE MADE AND PAID BY FRIDAY 7 MARCH 2019
ADVERTISEMENT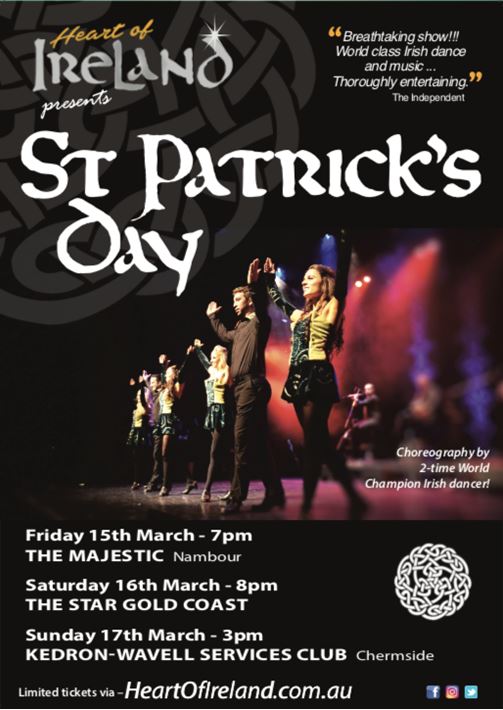 2. ADVERTISING
If you wish to advertise in the QIA Newsletter, Website or Facebook Page please email your contact details to enquiries@queenslandirish.com
3. TARA HALL DINING CLUB
All dinners are held at Hotel Pacific Brisbane 345 Wickham Terrace Spring Hill.
Time: 7.00pm – 10.30pm
Happy Hour: 6.00pm – 8.00pm
Dates for future Dinners –
Wednesday 20 March 2019
Wednesday 17 April 2019
Wednesday 15 May 2019
Wednesday 19 June 2019
For bookings please contact Tony Pisani – Email : fartacus8@gmail.com or phone : 0468 969 148.
4. TIGH GAELACH LADIES' DINING CLUB –
The Tigh Gaelach Dining Club celebrate a long history of enjoying good food, wine, and wonderful company. Our inaugural dinner was held in June 1987 and was organised by very active female members of the Queensland Irish Association.
We meet at 7:00 pm on the last Wednesday of the month between February and November. Our ladies enjoy pre-dinner champagne, an interesting and varied two course meal with wine, beer or soft drink throughout. We have monthly raffles with great prizes. Dinners cost $45 and membership is $5 per year.
NEW MEMBERS AND VISITORS ARE MOST WELCOME
Bookings and enquiries can be made by contacting:
Michelle Fitzpatrick, President on 0403 384 223 or mitchfitzpatrick@hotmail.com or
Patsy Gerrard, Secretary on 3396 7320 or ptgerrard1@optusnet.com.au
Any bookings need to be made by Wednesday the week prior to our dinner. When booking, please provide all names of those attending, a contact number and any specific dietary requirements. We have a great committee who help support our members and they all work hard to make our evenings fun. We'd love you to join us.
5. BLOOMSDAY CELEBRATION – Sunday 16th June 2019
Queen St Mall and then at Irish Murphy's
Other Bloomsday events are currently being planned and will be advertised when plans are finalised.
6. OTHER EVENTS
Planning for other events is taking place and will be announced in due course.
HOW TO PAY FOR QIA EVENTS-
Payments can be made in the following ways:
1. Bank Transfer from your bank account to the QIA account
ANZ
BSB 014 010
Account 411572417
Please enter your name in the relevant space so that we are able to identify your payment
This is the preferred method of payment as the QIA is not charged any fee by the bank.
2. By Credit Card through the QIA Web Site – www.queenslandirish.com
3. By Cheque mailed to PO Box 12745 George St Brisbane 4003
QUEENSLAND PUBLIC SERVICE CLUB WELCOMES QIA MEMBERS
The Public Service Club welcome QIA members to their bar at 40 Tank St just off George St in the Central Business District. It is a short walk from Roma Street Railway Station and is close to various bus routes.
A place for QIA Members to meet in the City.
Just produce your QIA membership card and drinks are at their membership prices.
They have a wide range of drinks on tap.
Thank you for your continuing support of the Queensland Irish Association. We look forward to seeing you at future events.
Jeff Spender President – Queensland Irish Association