WELCOME TO THE DECEMBER 2018 NEWSLETTER OF THE QUEENSLAND IRISH ASSOCIATION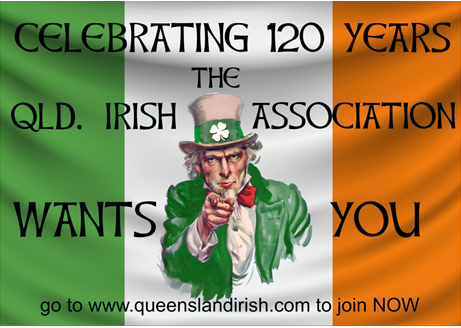 PRESIDENT'S MESSAGE
The QIA has come a long way as it seeks to rebuild after many years of decline both in membership and in its finances.
Traditional events early in the year, St Brigid's Dinner and St Patrick's Eve Dinner were well organized and well attended. The QIA's presence in the St Patrick's Day Parade was highlighted by an impressive float. In May, members enjoyed an evening of entertainment as membership cards were distribute dto those present. In June, a dinner was held for Rugby fans both Irish and Australia to come together to watch the Wallabies take on the Irish team on their Australian Tour.
In June, the Bloomsday Celebration was revived and taken into the Queens Street Mall and then on to Irish Murphy's.
The later part of the year saw a well-supported Annual General Meeting, more than two hundred people enjoy "Speeches from the Dock" held in the Supreme Court, and an enjoyable Christmas Gathering at Carina Leagues Club.
Planning is under way for numerous events to be held in 2019. We are seeking to provide a variety of activities that achieve the objectives of the QIA as set out in the constitution, and are of interest to all members.
We are specifically focused on finding a suitable premises that is affordable within our limited means.
I would like to thank the Board and other volunteers for all of their hard work.
I would like to thank all members for their continuing support and loyalty.
May you all have a Happy Christmas and Joyous New Year
Jeffrey Spender
President
ANNUAL GENERAL MEEETING
Wednesday 21 November 2018
The Meeting was well attended. All resolutions including approval of Annual Report, Financial Statements, Appointment of Auditors, confirmation of Nominations for the Board of Directors, and Recognition of Continuity of Membership covering the period of Administration were unanimously approved.
MEMBERSHIP CARDS
Membership cards have been produced and sent to members. If you have paid your membership and not received your card, please contact enquiries@queenslandirish.com.
QUEENSLAND PUBLIC SERVICE CLUB WELCOMES QIA MEMBERS
The Public Service Club welcome QIA members to their bar at 40 Tank St just off George St in the Central Business District. It is a short walk from Roma Street Railway Station and is close to various bus routes.
A place for QIA Members to meet in the City.
Just produce your QIA membership card and drinks are at their membership prices.
They have a wide range of drinks including Guinness on tap.
NEWSLETTER EDITOR – POSITION VACANT
The QIA is seeking a member of the QIA to volunteer for the role of Editor of The QIA Newsletter.
The role involves producing 10 newsletters each year. It only takes a few hours to prepare and write the newsletter.
Material for inclusion in the Newsletter is provided by the Board and the organisers of the various events held.
These days, the QIA is run by volunteers, and the position of Newsletter Editor would lighten the load on the Board who have many things to do to keep the QIA running and helping it to flourish.
If you could help with this, please email – enquiries@queenslandirish.com or phone John Leahy n 0417 624 078.
IRISH BOUZOUKI WANTED
My name is Andy Neil.. I am an older Aussie of Irish /Scottish descent, married to an Irish lass, a life-long musician and now throwing myself head-long into my Celtic Music traditions.. I had the pleasure of playing an Irish Bouzouki a few months ago, and although a guitarist primarily, I've been playing a lot of mandolin, and really REALLY just have to have a good quality Irish Bouzouki!
I don't know if there might be the possibility of a member of your association in Brisbane who might have one they no longer play and would like to sell, hence this email .. Please, if you could pass on my plea to your members, I would be most grateful. Thank you in advance for any help you might be able to give me.
Sincere regards
Andy Neil
0431 716 101
riversong@optusnet.com.au
SPEECHES FROM THE DOCK
The Literature & History Sub-Committee organized this event with assistance from the Supreme Court of Queensland Library and the Embassy of Ireland in Canberra.
The evening featured the actual speeches made at the trials of four significant figures in Irish History. Two of these figures ended up living in Queensland where they both made a substantial contribution as prominent citizens.
The event was fully booked, and sadly, we were not able to offer seats to some who wished to attend. More than 200 people were present and the feedback we have received was very positive.
The QIA would like to thank Chief Justice Cate Holmes for making the Banco Court of the Supreme Court available for the evening. Thank you to Megan Reeve, the Events Co-ordinator at the Supreme Court for her assistance.
The QIA would like to acknowledge the Embassy of Ireland in Canberra who made a Cultural Grant to assist with some of the costs involved in the conduct of this event.
Our thanks to the following who prepared and performed at the event –
Rodney & Robyn Sullivan – Preparation of the script and locating the actual speeches
Justice Martin Daubney – Narrator and Lord Norbury
Derek Harper – Theobold Wolfe Tone
Matt Foley – Dr Kevin Izod O'Doherty
Dan O'Gorman – John Flood
Paddy Farrelly – Robert Emmett
Ellen Geraghty – Eva O'Doherty
Mogens Routhe-Johansen – Power Point presentation
The event was filmed. Sometime in the early part of 2019, we will arrange a showing of the film together with a discussion on the historical figures portrayed in the performance.
CHRISTMAS GATHERING
Members enjoyed an evening of friendship and entertainment in the well-appointed comfort of a private room at Carina Leagues Club. The canapes provided by the QIA were quite tasty, and drink prices were reasonable.
QIA EVENTS – BOOKINGS & PAYMENT ARRANGEMENTS
The QIA tries to run events at the lowest possible cost, and, in some cases, at no cost to members.
We are no longer a "walk in off the street organisation".
The recent Speeches from the Dock evening used an online booking system as there was a limit on the capacity of the venue, and the names of those attending had to be supplied for security purposes.
Unfortunately, some who booked tickets did not attend, and there were some spare seats. The booking system we used for this free event had a facility to hand back tickets if you could not make it. This meant that we had to turn away people who would have liked to attend.
In future, we would appreciate if you are unable to attend to use the "hand back" facility, send us an email or leave a phone message so that we don't have to turn people away.
A similar situation occurred at the Christmas Gathering when more people attended than had advised us. We asked people to confirm attendance by email by a nominated date.
Please help us so that we can run events efficiently.
Payments can be made in the following ways
1. Bank Transfer from your bank account to the QIA account
ANZ
BSB 014 010
Account 411572417
Please enter your name in the relevant space so that we are able to identify your payment
This is the preferred method of payment as the QIA is not charged any fee by the bank.
2. By Credit Card through the QIA Web Site – www.queenslandirish.com
3. By Cheque mailed to PO Box 12745 George St Brisbane 4003
FUTURE EVENTS
1. TARA HALL DINING CLUB
All dinners are held at Hotel Pacific Brisbane 345 Wickham Terrace Spring Hill.
Time: 7.00pm – 10.30pm
Happy Hour: 6.00pm – 8.00pm
Dates:
The final dinner for the year was held on Wednesday December 12th 2018. The 2019 calendar will be in the first Newsletter of 2019'
For bookings please contact Tony Pisani – Email : fartacus8@gmail.com or phone : 0468 969 148.
2. TIGH GAELACH LADIES' DINING CLUB
The Tigh Gaelach Dining Club celebrate a long history of enjoying good food, wine, and wonderful company.  Our inaugural dinner was held in June 1987 and was organised by very active female members of the Queensland Irish Association.
We meet at 7:00 pm on the last Wednesday of the month between February and November at Mick O'Malleys Irish Pub, 171-209 Queen Street, Brisbane.  Our ladies enjoy pre-dinner champagne, an interesting and varied two course meal with wine, beer or soft drink throughout.  We have monthly raffles with great prizes.  Dinners cost $45 and membership is $5 per year.
NEW MEMBERS AND VISITORS ARE MOST WELCOME
Bookings and enquiries can be made by contacting:
Michelle Fitzpatrick, President on 0403 384 223 or mitchfitzpatrick@hotmail.com or
Patsy Gerrard, Secretary on 3396 7320 or ptgerrard1@optusnet.com.au
Any bookings need to be made by Wednesday the week prior to our dinner.   When booking, please provide all names of those attending, a contact number and any specific dietary requirements.  We have a great committee who help support our members and they all work hard to make our evenings fun.  We'd love you to join us.
3. St BRIGID'S DINNER

St. Brigid's Dinner Celebration
Saturday 9th February 2019
At
Easts Leagues Club
40 Main Avenue, Coorparoo
6:45 pm for 7:15 pm Start

Guest Speaker -Mr Eamonn Robinson
Deputy Head of Mission
Embassy of Ireland, Canberra
MC – Ms Gay Jenkinson
Tickets $65.00 
Two Course meal            (Includes a Complimentary glass of wine, beer or soft drink)
Entertainment with the QIA Dancers, QIA Pipes & Drums
Irish Entertainer – Robbie Dunn

St Brigid's Dinner Committee Queensland celebrating 30 years
Bookings:  Please Contact
Michelle Fitzpatrick           M: 0403 384 223
E: mitchfitzpatrick@hotmail.com
Margaret Stacey              T:  (07)3366 5496
E: rmstacey@bigpond.com
Michelle Hayes                 M: 0414 419 147
E: nevandmichelle@y7mail.com.
4. SENIORS LUNCH
12 Noon Wednesday 20 February 2019
Carina Leagues Club
1390 Creek Rd Carina
Bus 212 from Adelaide St City and Cultural Centre South Brisbane
Free Parking
$25 – Two Course Lunch + Coffee
Raffle
Admission by Bookings and Prepayment only. We cannot accept payment on the day of the event.
Strictly no refunds
Deadline for RSVP and Payment – 10th February 2019
How to Pay
Payments can be made in the following ways
Bank Transfer from your bank account to the QIA account
ANZ
BSB 014 010
Account 411572417
Please enter your name in the relevant space so that we are able to identify your payment
This is the preferred method of payment as the QIA is not charged any fee by the bank.
By Credit Card through the QIA Web Site – www.queenslandirish.com
By Cheque mailed to PO Box 12745 George St Brisbane 4003
5. St PATRICK'S EVE DINNER – Thursday 14th March 2019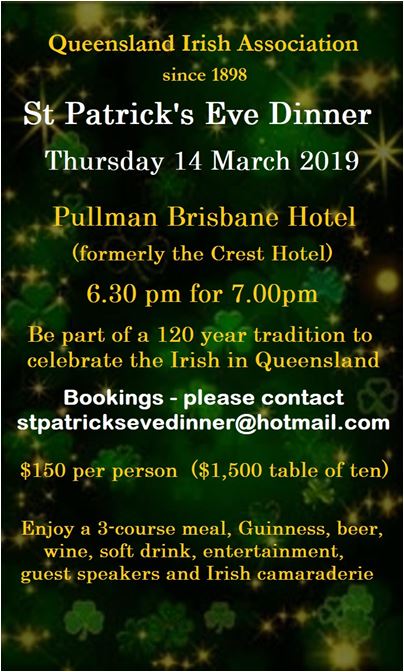 6. BLOOMSDAY CELEBRATION – Sunday 16th June 2019
Queen St Mall and then at Irish Murphy's
Thank you for your continuing support of the Queensland Irish Association. We look forward to seeing you at future events.
Jeff Spender      President – Queensland Irish Association