SPEECHES FROM THE DOCK
Wednesday 28 November 2018
The Literature & History Sub-Committee have organised an event featuring speeches made by significant people in Irish history from the dock as they faced charges in court. Two of these people have a Queensland connection.
It will be held in the Banco Court of the Supreme Court of Queensland – Level 3 425 George St. Brisbane commencing at 5:30pm on Wednesday 28 November 2018.
Admission is Free and is by Ticket Only for security reasons.  Seating is limited so a maximum of 4 seats may be booked by any one person. If you book a ticket and are unable to attend, please log back in and use the Return Ticket Facility so someone else is able to use the ticket. To book, CLICK HERE!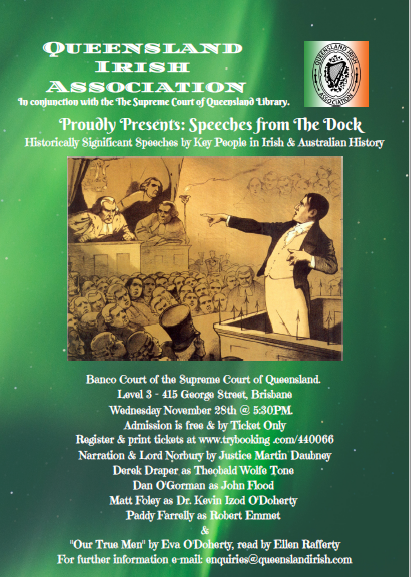 (Click on the image to view Full Size)