Our July newsletter is here with exciting FIFA Women's World Cup news!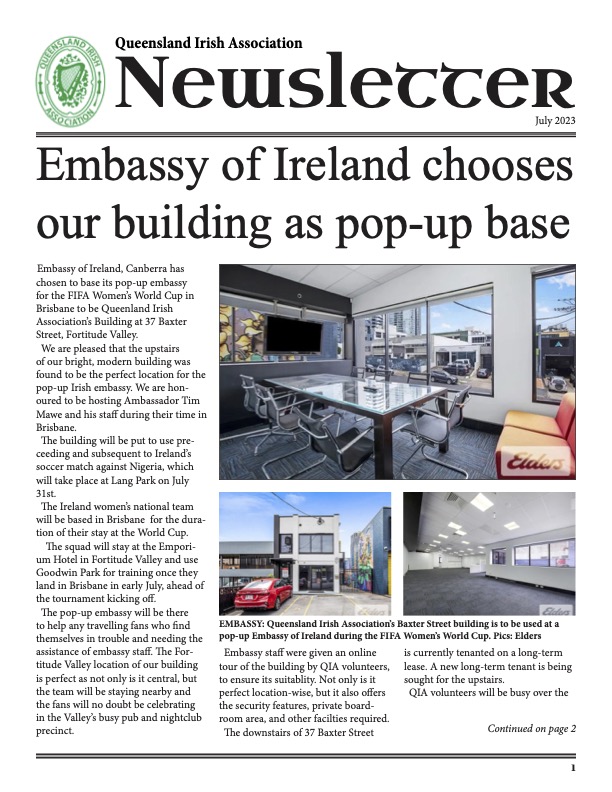 Our July newsletter is now online and you can read it here
It is packed with news and exciting events, the highlight being the upcoming FIFA Women's World Cup.
The Ireland team will be based in Fortitude Valley and Embassy of Ireland, Canberra has chosen to use our building, at 37 Baxter Street, Fortitude Valley, as a pop-up Irish embassy. We look forward to welcoming Ambassador Mawe and his team.
Arrangements are already underway, with volunteers busying themselves decorating the building to make sure it has everything the embassy needs.
Our members will also be enjoying some other social events too, we have a busy calendar ahead. That includes Happy Hour Drinks with the members of our 'Friends and Supporters' Facebook group and our friends at University of Queensland Irish Society, who have teamed up with us and we have strengthened ties between the two groups. UQ's Irish Society members will be the rising stars of the Irish community in Queensland.
So with a rousing cheer of Ole, Ole, Ole, we look forward to cheering on our girls in green and busy days ahead.