Newsletter – Best Wishes to All for 2018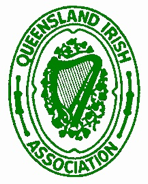 The year started with a magnificent sold-out St Brigid's Dinner on Saturday 3r rd    February 2018. A full report follows below.
Where We Stand
The QIA enters its 120th year of service to those who are Irish born or of Irish Heritage, as well as to the broader Queensland community.
Recent years have been very difficult for the QIA, and we lost our beloved Tara House in Elizabeth St.
However, the spirit of the QIA lives on. We are very grateful to those members who have renewed their membership and those who have become members. We encourage all who have been members in the past to re-join.
What Has Happened Since the QIA Was Restored
The Supreme Court ordered the continuation of the QIA on the 28t h   of July 2017. We had to virtually start from scratch. We did not have a phone, a post office box, a bank account or a functioning computer. We did not have an up to date contact list for members. The historical records, photos, paintings, books and other artefacts that remained were in boxes at a storage company.
Many of the administrative things have been completed, but there is still work to do, especially with communicating with our members and with the broader community.
The QIA is now an organisation of volunteers. The Board members give freely of their time, and have been supported by some wonderful members who have volunteered to perform administrative tasks as well as help to organise and run the three successful functions held in October and November 2017.
We have experienced difficulties in communicating with members and others because of the poor state of membership records. These records are gradually being updated. Because of the stale and unreliable state of our present records, this newsletter may be received twice, or may have been sent to people who have died. We apologise in advance for this. Please let us know about any changes by emailing to enquiries@queenslandirish.com.
Mark Morrissey, a Director of the QIA, has started on the huge task of generating a coherent and reliable membership data- base.
What Is Happening in 2018
In the first part of 2018, the Board will –
Concentrate on completing the remaining IT and administrative tasks needed to get the day to day operations working
Develop a strategic plan to guide the QIA into the future
Plan a program of events for members and their friends for 2018
Events in 2018
St Brigid's Dinner Saturday 3 February 2018 Easts Leagues Club, Coorparoo
The St Brigid's dinner was a great success with more than one hundred guests enjoying an evening of fine speeches and entertainment. The Master of Ceremonies was Gay Jenkinson, who introduced the Guest Speaker Ms Miriam Dwyer, the CEO of the Gallipoli Medical Foundation, Greenslopes Private Hospital.
Kate Hartley with the QIA Dancers, and Bruce Grice with the QIA Pipe Band, provided the entertainment.
Senator Claire Moore, a member and great supporter of the QIA, moved the Vote of Thanks.
The Dinner was a triumph for President Margaret Stacey, and her hardworking Organising Committee-Michelle Fitzpatrick, Patsy Gerrard, Mary Woodley, Margaret Haling, Margaret Buck and Noela McCormick.
Young Professionals Drinks 22nd February 2018
 5.30pm-8pm
Irish Murphys 175 George St Brisbane
On 22 February, 2018, all members but particularly our younger members (and anyone interested in becoming members) are invited to join some of the Board of the QIA for drinks at Irish Murphys.
The event will commence from 5.30pm and will be excellent chance for members to meet up with the Board and each other and to introduce anyone interested in joining the QIA.
We hope to make this a regular event and look forward to seeing you all there.
St Patrick's Eve Dinner
Friday 16 March 2018
Pullman Hotel (formerly Crest Hotel) Ann St Brisbane commencing at 6.30pm Booking enquiries to –
stpatricksevedinner@hotmail.com See the flyer below and act quickly!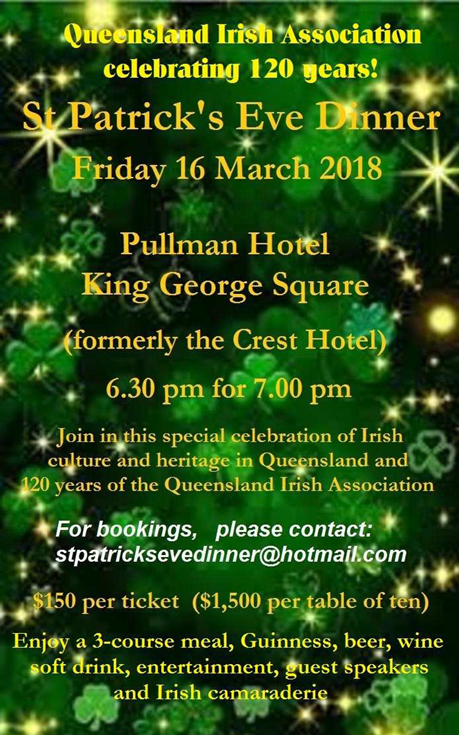 St Patrick's Day Parade Saturday 17 March 2017
Commencing at 10.30 am followed by food and entertainment in the Brisbane Botanical Gardens Alice St Brisbane
Look out for the new QIA float in the parade.
All are invited to march with the QIA in the parade. We will have a supply of QIA Tshirts.
We need marchers!
Please contact John Leahy on 0414 624 078, or email him at johnleahy10@hotmail.com to help out.
Please assemble in the Botanical Gardens by 10am.
Future Events
 The QIA would like its members to tell us what kind of activities and events the QIA should run. We appreciate your suggestions – please email enquiries@queenslandirish.com .
Some events currently being planned include –
Irish Film Festival
 The QIA is looking to stage an Irish Film Festival featuring significant Irish films. More details will be advised as planning progresses.
Bloomsday Celebration
If there is sufficient interest, the QIA would like to hold a Bloomsday Celebration on 16 June 2018 to commemorate the life of the Irish author James Joyce and his most famous work "Ulysses"
Bloomsday celebrations are held on this day throughout the world and involve readings from the novel as well as re-enactments of significant parts and much celebrating in traditional Irish style.
If you are interested in participating, please contact John Leahy on 0417 624 078 or at johnleahyl0@hotmai.com.
Public Display of the Book of Kells
The QIA has a rare facsimile copy of the Book of Kells. Negotiations are progressing for this to be on public display at the State Library of Queensland along with other QIA artefacts.
It is hoped that the Opening of the Display will include afternoon tea and a lecture on "The History of The Irish in Queensland" at The State Library of Queensland, South Bank.
Membership Renewal- Membership Application
The Board decided that all membership renewals and applications would cover the period until 30 June 2019. Membership is $44.
Please click the link to download the  Membership Renewal and Membership Application Forms. There are two ways to renew membership or become a member-
Membership forms can be scanned and emailed to enquiries@queenslandirish.com, and payment made by internet bank transfer to the bank account number on the form. Please make sure that you include your name on the bank transfer so that we can identify your payment.
Or
Mail completed form and a cheque to PO Box 12745, George Brisbane 4003
Very Best Wishes for 2018
 Jeff Spender
 President – Queensland Irish Association