WELCOME TO THE MAY 2018 NEWSLETTER OF THE QUEENSLAND IRISH ASSOCIATION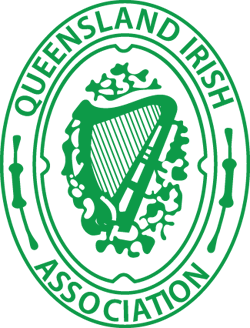 May was another significant month in the restoration of the QIA. Membership continues to grow steadily as new members join and former members re-join. Thank you for your support.
MEMBERSHIP CARDS
Membership cards have been produced and were distributed to those who attended the Irish Entertainment/Card Collection Evening on the 12th of May. The remaining cards will be mailed to members.
ANNUAL GENERAL MEETING & BOARD ELECTION
The date for the Annual General Meeting has been set as Tuesday 20th November 2018.
The date for membership eligibility to stand for election to the Board is 30 June 2018. Only National Members are eligible to stand for election to the Board.
PLANNING THE FUTURE OF THE QIA
The Board is undertaking a detailed planning process as it works towards setting a course for the future of the QIA. One of the first steps was a survey of members and others to get their input into what people want the QIA to be. The Board engaged a specialist consulting firm to assist with this process. The first of a number of full day meetings was held on the 12th of May.
The results of this survey are set out below.
---
MEMBERS SURVEY – RESPONDENTS & DEMOGRAPHICS

Number of Respondents
345
Respondents over 51+years
80%
Average length of membership
31years
Current member of the QIA?
Yes-211
No-131

---

HOW DID YOU HEAR ABOUT THE QIA?

Family/Friend
175
Word of Mouth
80
Other
56
Social Media
31
At an Event
17
Radio
1

---

KEY ISSUE FOR THE QIA?

Lack of a club/home
52%
Membership
12%
Governance
12%
Financial Management
6%
Events
4%
Communication
4%
Other
1%

---

WHAT SHOULD THE QIA START DOING?

Foster Irish Events & Functions, Music and Dancing
106
Establish central and permanent clubhouse
76
Traditional affordable lunches and dinners
16
Improve atmosphere of the club
12
Increase communication with members
10
Engage young people and travellers to increase membership
9
Advertising
3

---

WHAT SHOULD THE QIA STOP DOING?

Displaying a lack of Commercial and Financial acumen
70
Displaying mismanagement and poor governance
56
Trying to mimic other establishments (e.g.RSL/pokies)
44
Other
14
Lack of central home
13
Exclusion and inaccessibility – of younger, newer members, And having  events in inaccessible places
13

---

WHAT SHOULD QIA KEEP DOING?

Promoting Irish community events and culture
100
Communication – with members and through social media
40
Providing hospitality and a warm atmosphere
26
Keep looking for a clubhouse
20
Growing membership
14
Assessing ongoing viability
11
Improving governance (and Board demographics)
2

---

HOW DO YOU PREFER TO HEAR FROM US?

Email
325
eNewsletter
103
Social Media
78
Via Post
20
Phone Call
10
Other
6

---

ARE YOU PLANNING TO RENEW YOUR MEMBERSHIP OR JOIN IN 2019?

Definitely will
190
May do
80
Not sure
60
Will not
3
Definitely will not
3

---

MEMBERS COMMENTS
• Support Irish organisations in Queensland
• Re-establish regular social calendar
• Explain purpose of the QIA
• Promote Irish history in Queensland
• Regular events (monthly-bi-monthly)
• Work with Irish bands in Queensland
• Promote access to resources/historical information
• Literary dinners/lunches
• Utilise skills and experience of members
• Have licence for trading during GAA & 6 Nations matches
• Engaging with new Irish immigrants to increase membership
• Provide temporary membership for backpackers
• Unite with GAA teams
• Family days
• Diverse Board (age & gender)
• Raise funds for a building fund
• Main point of contact for all things Irish
• Venue close to CBD (not the Rugby club)

---
QIA T-SHIRTS
QIA T-Shirts have proved popular and were sold out at the recent Card Collection Evening. A new batch will be ordered. Cost is $25 and a full range of sizes will
be available.
HONOUR FOR MAVIS WILLIAMS
QIA Director, Mavis Williams, was honoured with the presentation of the award, 'Cyfaill y Celtiad" –CyC – "Friend of The Celts", by The Celtic Council of Australia at the Queensland Annual Awards Dinner on 21 April 2018.
Mavis is currently Queensland President of the Celtic Council of Australia. She is a long term member of the QIA Pipe Band, and has an extensive history of involvement with a range of community organisations.
FUTURE EVENTS
1. BLOOMSDAY CELEBRATION – Saturday 16 June 2018
2. RUGBY DINNER – WATCH THE WALLABIES PLAY IRELAND ON THE BIG SCREENS – Saturday 23 June 2018
3. TARA HALL DINING CLUB
All dinners are held at Hotel Urban Brisbane 345 Wickham Terrace Spring Hill.
Time: 7.00pm – 10.30pm
Happy Hour: 6.00pm – 8.00pm
Dates:
Wed May 30th 2018
Wed June 27th 2018.
Wed July 25th 2018.
Wed August 29th 2018 -Mix Nights ( Partners Welcome )
Wed September 26th 2018.
Wed October 31th 2018.
Wed November 21th 2018.
Wed December 12th 2018,-Mix Nights ( Partners Welcome )
For bookings please contact Tony Pisani – Email : fartacus8@gmail.com or phone :
0468 969 148.
4. TIGH GAELACH LADIES' GOURMET DINING CLUB
The Tigh Gaelach Gourmet Club celebrate a long history of enjoying good food, wine, and wonderful company. Our inaugural dinner was held in June 1987 and was
organised by very active female members of the Queensland Irish Club.
We meet at 7:00 pm on the last Wednesday of the month between February and November at Mick O'Malleys Irish Pub, 171-209 Queen Street, Brisbane. Our ladies
enjoy pre-dinner champagne, an interesting and varied two course meal with wine, beer or soft drink throughout. We have monthly raffles with great prizes.
Dinners cost $45 and membership is $5 per year.
NEW MEMBERS AND VISITORS ARE MOST WELCOME
Bookings and enquiries can be made by contacting:
Suzanne O'Shea, President on 0412 258 824 or suzanneoshea@bigpond.com or
Patsy Gerrard, Secretary on 3396 7320 or ptgerrard1@optusnet.com.au
Any bookings need to be made by Wednesday the week prior to our dinner. When booking, please provide all names of those attending, a contact number and any
specific dietary requirements.
We have a great committee who help support our members and they all work hard to make our evenings fun. We'd love you to join us.
5. SENIOR MEMBERS LUNCH – October 2018
6. CHRISTMAS GATHERING – December 2018
Other events will be added in the next newsletter.
BLOOMSDAY CELEBRATION – 16 June 2018
The QIA is reviving its Bloomsday Celebration to commemorate the life of the Irish author James Joyce and his most famous work "Ulysses".
Bloomsday celebrations are held on this day throughout the world and involve readings from the novel as well as re-enactments of significant parts and much celebrating in traditional Irish style.
Bloomsday will start at 11am at the stage in the Queens St Mall where actors in period costume will perform excerpts from the novel.
At Noon, all are welcome to move on the upstairs at Irish Murphys for further readings and to join the celebration of this significant day for Irish literature.
There is no charge to be part of this event.
If you are attending, please let us know by email to enquiries@queenslandirish.com or phone 30673064 and leave a message.

RUGBY TEST DINNER – SATURDAY 23 JUNE 2018
From 6pm
FIGS ON SYLVAN
AT WESTS BULLDOGS RUGBY CLUB
65 Sylvan Rd Toowong 4066
The Irish Rugby Team are the Six Nations Champions, and will be visiting Australia in June to play three Test matches.
The final game of the tour is to be held in Sydney on Saturday 23 June 2018
The QIA is holding a Rugby Dinner to bring together the Australian and Irish Rugby supporters for a night of fun while watching the game on the big screen at Wests Bulldogs Rugby Club.
Click here for the Booking form.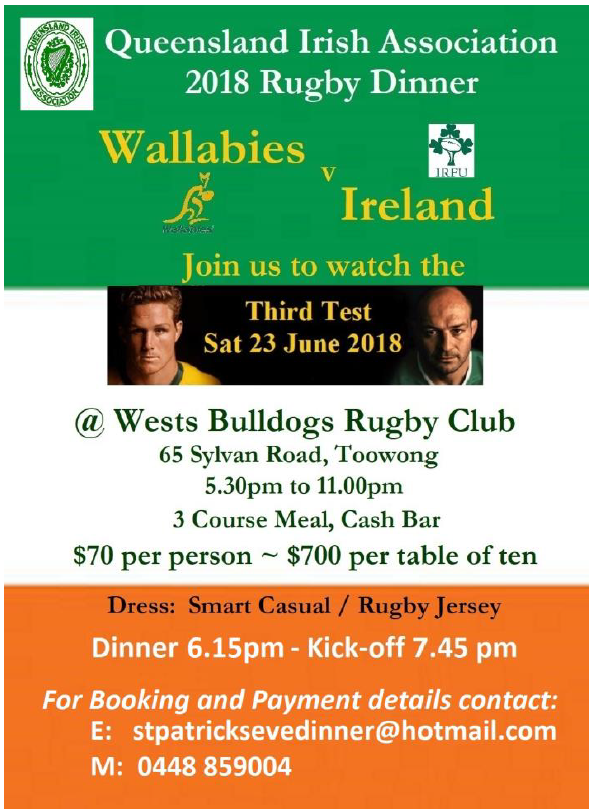 QIA EVENTS – BOOKINGS & PAYMENT ARRANGEMENTS
During this period when the QIA does not have its own premises, all events have to be held at commercial locations. We attempt to keep the cost to members as low as possible and run events that break even or have a small profit. We hold some events where there is no entry charge and members purchase food and drinks of their choice. We have negotiated arrangements where the owner of the venue does not charge a room rental, but takes the proceeds of food and drink sales.
Most venues insist that the QIA advise and pay for the number of attendees a week or more in advance. This is so that they can purchase food and drinks, and schedule the right number of staff.
We have recently experience of members and their guests wanting to attend and pay for functions at the last moment. We have done our best to accommodate this but cannot do so into the future.
We ask for your help by booking and paying for events by the date nominated.
Where an event is free to members, we also incur costs so we would appreciate an email or a phone call message to let us know if you are attending.
The most efficient way for the QIA to receive payment is by bank transfer from your bank account to the QIA account. This saves the time and effort of a visit to the city to clear the post office box, and then a visit to the bank to deposit cheques. If you are paying by bank transfer, please include your name in the appropriate field on the screen so that we know it is you making the payment.
We understand that not all members use internet banking and are happy to accept payment by cheque.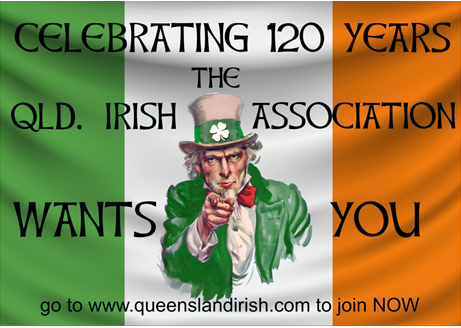 MEMBERSHIP
The task of updating the membership list has been substantial, and is just about complete. Thank you to Directors, Mark Morrissey and Seamus Sullivan, and very willing volunteer, Carmel O'Brien for the many hours they have dedicated to this.
The Board decided that all membership renewals and applications would cover the period until 30 June 2019. Membership is $44.
Click here for: Membership Renewal Form and Membership Application Form.
There are two ways to renew membership or become a member-
1. Membership forms can be scanned and emailed to enquiries@queenslandirish.com, and payment made by internet bank transfer to the bank account number on the
form. Please make sure that you include your name on the bank transfer so that we can identify your payment.
Or
2. Mail completed form and a cheque to PO Box 12745, George St. Brisbane 4003
Thank you for your continuing support of the Queensland Irish Association. We look forward to seeing you at future events.
Jeff Spender
President – Queensland Irish Association