UPDATE – CANCELLED Let's raise a toast to 2021!
UPDATE: EVENT CANCELLED
As a result of the uncertainty surrounding the Covid situation, the new restrictions and concern for the health of Members, we have reluctantly decided to cancel the function at the Grand Central Hotel on Friday, 15th January, 2021.
The good news is that we have arranged to have a function at the Grand Central Hotel commencing at 4pm on Friday, 12th February, 2021.  More detailed information will be sent out via email, the website and Facebook closer to the date of the event.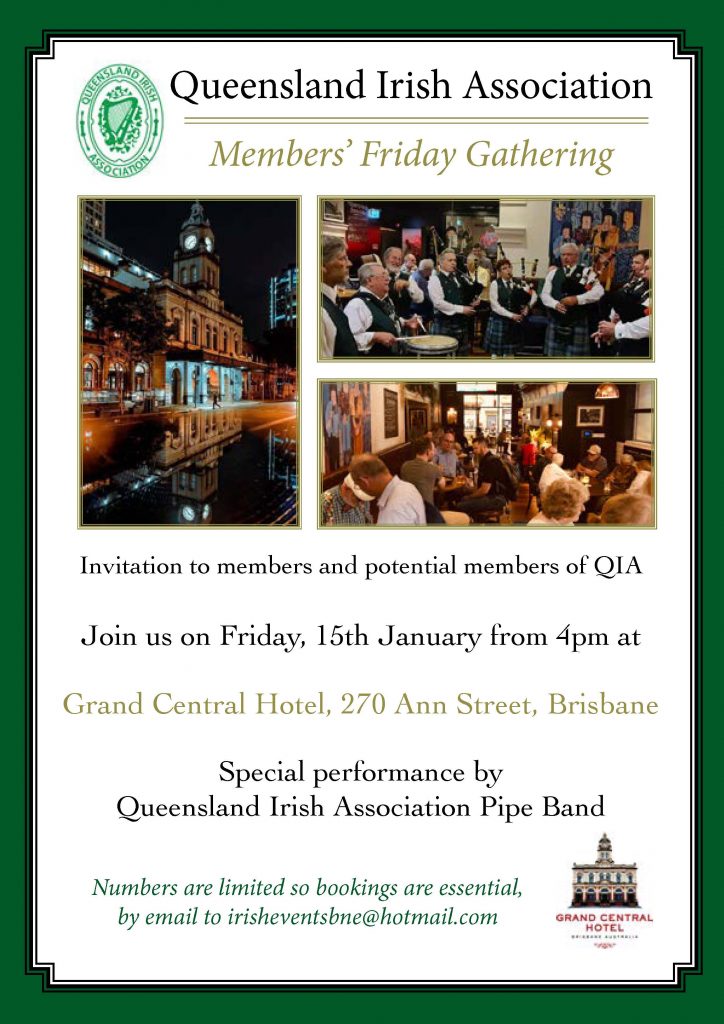 The date is set for our first Friday drinks get-together of 2021 and we would love to see you there.
We will be at the Grand Central Hotel, 270 Ann Street in Brisbane, from 4pm on Friday, January 15th.
You can expect another thrilling performance by Queensland Irish Association Pipe Band.
Numbers are limited so bookings are essential, by emailing irisheventsbne@hotmail.com
We would like to acknowledge the following QIA Pipe Band Members who ensured the last event, our Christmas gathering, was an outstanding success – Robert Gray, Fiona Harris, Bruce Grice, Bruce Williams, Tom Kimmett, Mavis Williams, Buzz Ennis, Adam Carey, Mark Kindness, Bill Allam and Stuart McLeid.